Summer Salad Series: Grilled Beets and Goat Cheese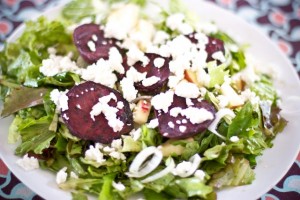 We've been getting a ton of beets from our CSA.  It's hard to keep up.  Until I decided to grill beets, my favorite thing about them was the color. A few weeks ago I charred grilled a few beets when my friend Deb stopped over for a visit while on her road trip.  I mixed them with my favorite Mediterranean toppings.  Last weekend, feeling all bad azz, I lit the grill again.  I have no idea why grilling makes me feel bad azz.
Grilled Beets and Goat Cheese*
Romain Lettuce
Arugula Green Onion (thinly slice)
Apple (coarsely chopped)
Grilled Beets
Goat Cheese (crumbled)
(Last weeks) Honey Basil Balsamic Dressing
To Grill the Beets
Light the Grill
(Or yell for your husband when it's not working.  Look the other way and roll your eyes when he lights in it .5 seconds after you spend 5 minutes trying.)
Brush the Beets with Olive Oil
(If you are lazy like me you spray them with the aerosol olive oil.)
Sprinkle on Sea Salt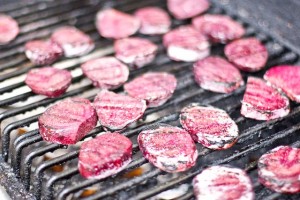 Grill over medium/high heat for about 3-5 minutes each side.
Throw on Arrange Beets on top of the greens and sprinkle with goat cheese.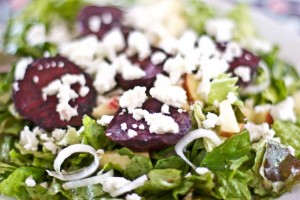 *Not pictured the handful of chicken I threw on top for extra protein.
Hugs and High Fives,
Jenn
If you enjoyed this post please Subscribe to the RSS Feed.
Sign up to have posts emailed to your inbox
Pin It