Tasty Salmon Patties
Salmon regularly makes the different so called "superfoods" lists.
(Here, here, and here.)

Unlike broccoli I actually enjoy eating salmon.
Especially when someone else cooks it.
A few months ago Brent put together this recipe.
It's been a favorite of mine since.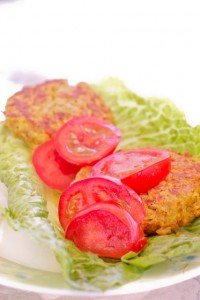 Salmon Patties
6 oz Can of Wild Salmon
2 pieces of Ezekiel Bread
2 Eggs
2 tbs Onion (minced)
2 tbs Red Bell Pepper (minced)
1 tsp Worchestershire Sauce
1 tsp Lemon Juice
1/2 tsp Hot Sauce (We use Chinese chili sauce)
sea salt to taste
fresh ground pepper to taste
1/2 – 1 tbs Coconut Oil
1. Toast the bread and put it in mini-chopper to make bread crumbs.
2. Mix the crumbs with everything else and form patties.
3. Cook patties in coconut oil until brown.
We get typically get 4 servings out of this recipe.
(Unless I'm really hungry.)
140 calories, 8 g carbs, 15 g protein, 5 g fat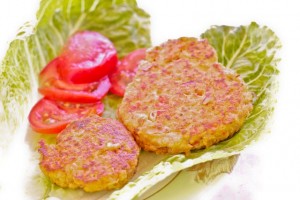 Oh and you know how I mentioned I hoped I would be sore from yesterday's workout?
Mission accomplished.
😉
Hugs and High Fives,
Jenn
If you enjoyed this this post please Subscribe to the RSS Feed.
Sign up to have posts emailed to your inbox.
Pin It