Brussel Sprouts with Walnuts and Cranberries
Let me tell you a secret.  I don't loooveeee veggies. At least not in the same way I looooveee pizza.

(I know it's almost heretical.)
But when my friend sent me this recipe from the Food Network
I actually thought "here is a veggie recipe I can get excited about" or something sort of cheesy like that.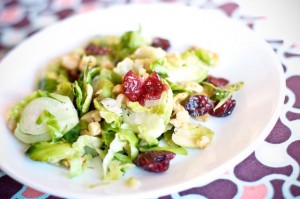 Sunny Anderson's Crunchy Sweet Brussel Sprout Salad
1 pound brussel sprouts
2 tbs coconut oil*
1/2 tsp nutmeg
handful of dried cranberries
handful of chopped walnuts
sea salt
pepper
(* Original recipe calls for olive oil instead of coconut.  I prefer to use coconut oil for most of my cooking.)
The original recipe said to core and shred the brussel sprouts.
However, I had no idea how to do that and it sounded like it would take forever and a day so I simply cut off the bottoms and sliced them into thin slices.
Then I sautéed them in the coconut oil for a few minutes until they were "bright and slightly" wilted.
Next, I added the nutmeg, sea salt and pepper.
Lastly, I added the walnuts and cranberries.
Aren't they pretty?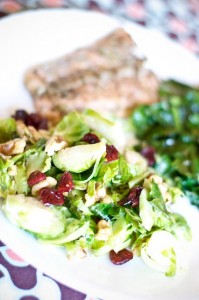 They were also delicious.  Something I rarely say about veggies.
I served them with Trader Joe's wild salmon and some other sort of dark leafy green from my CSA box.
Thanks Lisa for sending me the link to Sunny Anderson's recipe.
Tell me the truth do you "looooveee" veggies?
and
How do you "core" brussel sprouts?
Hugs and High Fives,
Jenn
If you enjoyed this this post please Subscribe to the RSS Feed.
Sign up for up to have posts emailed to your inbox.
Pin It