Perfect Pesto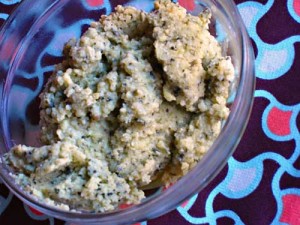 Growing up in Indianapolis, there was this one particular pizza place I loved to visit and gorge myself on for their pesto.  It is so good.  Fifteen years later, I still visit every time I go back but it has sort of lost it's luster for me.  The reason, a waitress with a big mouth.  A few years ago, I was telling this waitress how much I adore their pesto and she started rambling on about the ingredients which are not exotic but  the consistency is perfect.   As soon as she walked away, I wrote what she had said down on a napkin and went to work trying to recreate it. After a few tries,  I got the ratios right and now can I have my favorite pesto whenever I want instead of waiting until I visit Indiana.  While this is my favorite pesto in the whole gigantic (yet quickly shrinking) world, I actually named it Perfect Pesto because it's a great "annoying people" repellant. 😉 So if you make it for a date night make sure you both eat it.
Perfect Pesto
1/2 cup fresh basil
1/4 cup of pine nuts
2 cloves of garlic
1/2 cup olive oil
1.5 cups of finely grated parmesan cheese (I use a pre-grated parmesan romano blend from Trader Joes's)
Directions:  Put the basil, pine nuts, garlic and half of the oil in a food processor or blender.  Blend until smooth and scrap mixture into a bowl.  Still in the parmesan cheese and add more oil until desired consistency is reached.  I like mine thick and chunky.
I use this pesto for pastas, pizzas, stuffed tomatoes, on chicken, and, on french bread (of course). Oddly enough, my favorite time to eat it is at breakfast either plain on eggs or on an egg sandwich.  Yum!
or…
Check out these Giveaways!
Raw Honey at The Suburban Jungle (Ends tomorrow!!)
Mirra Beauty Products (also) at The Suburban Jungle
Funky Monkey at Eat Drink and Be Hopeful
This one is TOTALLY RANDOM but since I saw this movie not long ago and loved it, I thought I'd share it.
The Fantastic Mr. Fox DVD at Tiara's & Tantrums (If I win it we'll make a perfect pesto pizza and watch it!)
Hugs and High Fives,
Jenn
If you enjoyed this this post please Subscribe to the RSS Feed.
Sign up for up to have posts emailed to your inbox.
Pin It