Rockin' Raisins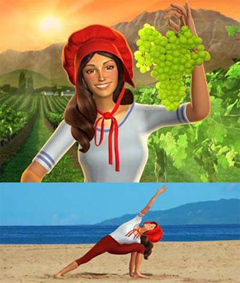 Look THE Sun Maid even works out.  Yoga on the beach.  I want to show up to a yoga class wearing a bonnet.
Lemony Chicken With Raisins
8 chicken breasts (I prefer boneless skinless)
2 tablespoons olive oil
4 cloves of minced garlic
2 teaspoons oregano
3 teaspoons ground turmeric
2 teaspoons oregano
1 lemon thinly sliced
1 cup raisins
4 cups of chicken broth
juice of 2 lemons
low-fat feta (optional)
Salt
Pepper
Mix oil, garlic, oregano, turmeric, and salt in a bowl.  Toss chicken in the oil mixture.  Put chicken in a large deep pan.  Cover with lemon slices and raisins.  Pour broth into pan and bring to a boil.  Reduce heat and simmer until chicken is no longer pink about 25 minutes.  Take out the chicken.  Add the lemon juice to remaining liquid.  Boil until liquid is reduced and starts to thicken until your desired consistency.  Season the sauce with salt and pepper and pour it over the chicken.  If you are a feta fan you can sprinkle a little low-fat feta over the top.
This makes 8 servings.  I know, I know, I know you probably don't need to cook for 8 people.  I don't either and considering my kids won't eat anything I might as well cook for two.  I can't tell you how many times I hear "CHICKEN AGAIN".  Just cut the recipe in half.  I make a lot at once because I like to have leftovers for lunch the next day.  And I buy the frozen chicken from Trader Joe's which comes with about 8 pieces of chicken and for no good reason it stresses me out if I don't use the whole bag. I also often freeze a serving for those days when I can't or don't feel like cooking.  My own homemade frozen dinner.  I didn't figure the macros yet.  I'll try to do that later.  But serve it with rice and this takes care of your complex carb and protein.  I eat it with a salad with some low-fat Greek dressing.
xoxo
j
Pin It