"Fail"
Yesterday, I was making grilled cheeses for my boys when I got distracted had to take care of something very important.
I left the kitchen for a moment and returned to something sitting on top of the grilled cheeses.
What the…?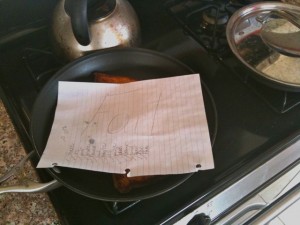 Upon closer inspection.
"Fail"
Apparently, the grilled cheeses got too crispy for Mr. Smarty Pants Thing 1.
I'm not sure if I failed on the grilled cheeses
or teaching kitchen safety
(or teaching manners)
(or by imparting my sarcastic sense of humor upon my child)
Have a great weekend!
Hugs and High Fives,
Jenn
If you enjoyed this post please Subscribe to the RSS Feed.
or
Sign up to have posts emailed to your inbox.
Pin It