Summer Salad Series: Pears and Peppers Salad
Let's just pretend summer started this week and I'm actually on top of things.  As promised, introducing the summer salad series.  Over the next few months I'm going to do my best to try out a new salad every week.   This week Pears and Peppers.  I was going to say "peppered pears" but that just sounded wrong.  Unless you're weird.  😉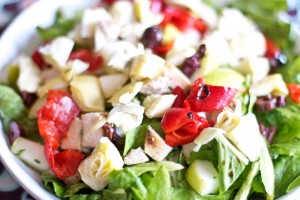 Salad Ingredients
Lots o'Lettuce
1 Pear (diced)
6 Artichoke Hearts (expect to be seeing a lot artichokes in this series)
10 Kalamata Olives (finely chopped)
Roasted Red Pepper (chopped)
Grilled Chicken (optional..obviously)
Honey Basil Balsamic Dressing
1 cup of Balsamic Vinegar
1/2 cup of Olive Oil
1.5 tbs Honey
1 tbs Basil (finely chopped)
For all you stat people, this salad with dressing (a few tbs) was 411 calories 41 g carbs, 32 g protein, and 13 g fat.
Also wanted to let you know I did a guest post for Sabrina over at Rhodeygirl Tests earlier this week about finding the "perfect" plan.  I'd love it if you would check it out!
Hugs and High Fives,
Jenn
If you enjoyed this post please Subscribe to the RSS Feed.
Sign up to have posts emailed to your inbox
Pin It