Protein Cookie Dough Recipe
As you know, I try to stick to whole foods.  I do have one weakness…okay not true…I have A LOT of weakness but one that I don't think I'm willing to give up…protein powder.  It's just so darn convenient and it's really easy to make things that tastes like treats.  For instance A Good Idea Pudding or No Bake Protein "Cookie Dough".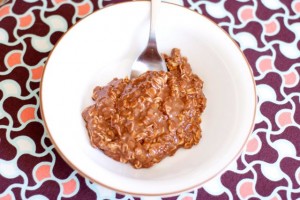 No Bake "Cookie Dough"
1/2 cup uncooked oatmeal
1/2 tbs all natural peanut butter
1/2 tbs unsweetened coco powder
1 scoop of vanilla whey protein powder
Hot water – as much as you need until it's the consistency you like.
Mix everything together in a bowl and eat.
Approx. 358 calories, 34 grams of carbs, 27 grams of protein, 10 grams of fat.  (It's also nice to know this has 6 grams of fiber too.)
If you are watching carbs just cut out the oats.  I prefer to use the vanilla protein powder and add chocolate b/c I think  it taste more authentic (less chemically) than just the plain chocolate protein powder.
Mmmm…I think it's snack time!
xoxo
j
Pin It