Foe to Friend
I worry.  I fret.  I over-analyze.  I get things wrong.  Sometimes.
I was wrong.
And this is wrong….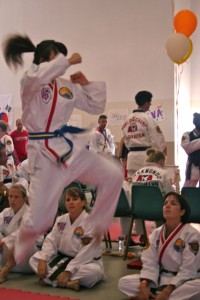 …WTH?  Watch out, balloons!
This past weekend we had another taekwondo tournament so that meant last week was spent worrying about MMA Mama showing up.  She did show up.  I spotted her within 10 minutes of arriving and immediately wanted to go home to curl up with a cup of chamomile and my cat.
I didn't.
Instead, I decided to face my fear by re-introducing myself,  "Hi, I'm Jenn and you make me want to take Xanax.  I think we sparred last time.  I just wanted to say hi and maybe if you see how wimpy I really am you won't hit as hard."  I really didn't know what to expect when I walked up to her.  Would she decide to kick me in the face?  Would she laugh at me?   Give me attitude?   Or worse…blow me off?
MMA Mama is really nice.  I'm just a freak overly imaginative.  We talked about our kids.  We talked about our husbands.  We even talked about our last match. She was cool. Totally cool.  (And she really does do MMA.)
As it turned out she wasn't even going to compete because she and her husband takes turns.  I can't say I wasn't relieved but I can say, I was wrong.  She's not the scary gladiator I made her out to be.  She is intense, no doubt, but I know she's not out to hurt anyone.  In the line up area before we were called to our ring, she even gave me the "Go girl!  You can do it!" look complete with a "power fist".
Of course, Thing 1 and Thing 2 competed.  It was a hard day for Thing 2.  He had a mini ninja in his ring and he couldn't get one point on him.  It's hard to watch your little one feel defeated.  We used it as an opportunity to talk about winning is not what makes us proud but facing fears and giving it your best it what makes us proud.  We talked about how we can learn more from losing than from winning.  Whah whah whwhah whwhah.  His disappointment didn't last long because he remembered the snack table.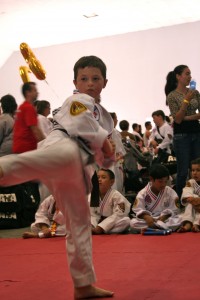 Brent also competed for the first time.  He ended up taking 2nd in sparring, losing to the guy who was State Champion last year.  I was so excited for him. Unfortunately, we were competing at the same time so I didn't get to watch and the camera was entrusted to Thing 1 so we didn't get many pictures but we did get one of him receiving his medal.  (It sort of cracks me up that they drape them over our necks.)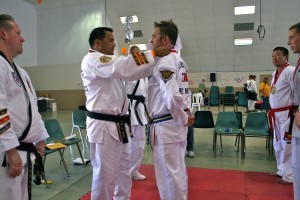 As it turned out, I didn't place as well in this tournament as the last one.  There was a girl who I had never competed against there and she cleaned up taking first in both events.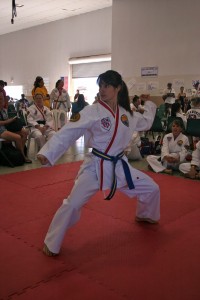 I ended up getting a 2nd in forms and a 3rd in sparring in a smaller ring (only 6 girls) but I felt like I really won by facing my fears and making a new friend.  A new friend who will eventually kick me in the head but still a friend.
Have you ever been totally wrong about someone?  Anyone else have an overly active imagination?
Just in case, you didn't catch one of my 3000 announcements I'm doing an Alo Yoga Pants giveaway.  It closes Wednesday night.
Hugs and High Fives,
Jenn
If you enjoyed this post please Subscribe to the RSS Feed.
Sign up to have posts emailed to your inbox
Pin It