How to Make Homemade Sushi Rolls
You want to know how to make homemade sushi rolls?
How about how we make homemade sushi rolls because we have no clue as to the proper way to make sushi rolls.
Making sushi rolls at home is a perfect date night.
It's also fun way to spend time with friends, sort of like pizza making parties, for grown ups.
Ingredients
White Rice
Seasoned Rice Vinegar
Nori (seaweed sheets)
Bamboo Rolling Mats
Soy Sauce
Wasabi
Ginger
Assortment of  sushi grade fish, veggies, fruits, cream cheese, i.e., fillings.
We used halibut & ahi b/c that is what was available at the fish market.
(Our sushi roll recipes are at the bottom of the post.)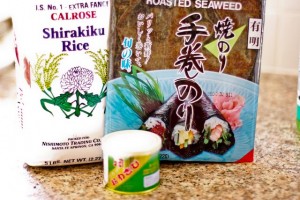 Sushi Rice
We use a 1/1 ratio of rice to water.
Use 1/3 a cup of seasoned rice vinegar for every 3 cups of rice
Pour vinegar over warm rice and fluff.
How to Make the Sushi Rolls

Brent getting the "sushi station" ready .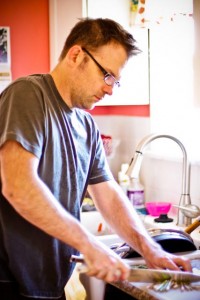 "Sushi Station"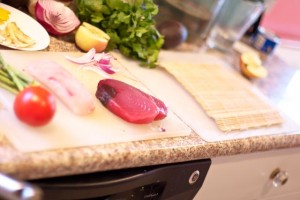 Lay your seaweed paper in the center of the bamboo roller.
Spread rice out on the seaweed paper.
Lay your fillings out on the rice.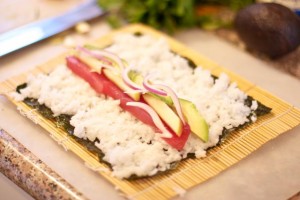 Use the bamboo mat to "roll" your roll.
(Sort of feels like making a burrito except you don't fold the ends.)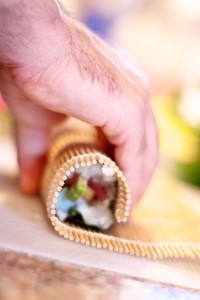 Voila!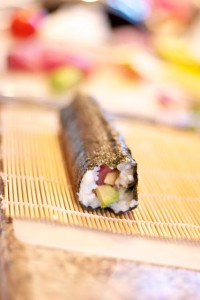 Then slice with a annoyingly dull sharp knife.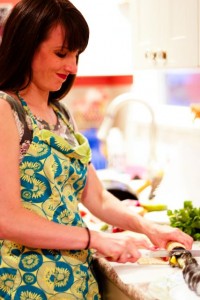 " The AAA Roll"
(recipe below)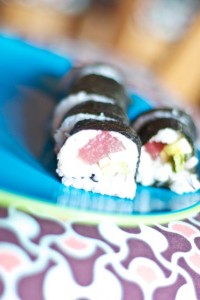 According to the Bodybugg sushi making does not burn a lot of calories.
Unfortunately if you use cream cheese the way I use cream cheese you will eat more than you burn.
A lot more.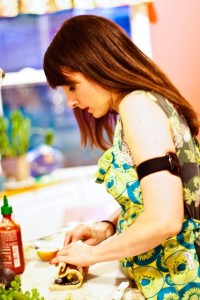 The "ALT" (Ahi Lettuce and Tomato) before …
…we ruined covered it with burnt eel sauce.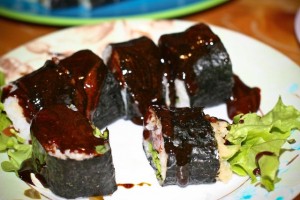 We took a perfectly healthy plate of veggies….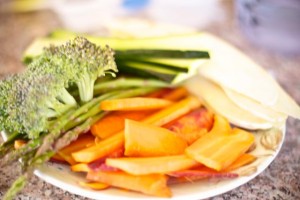 …and turned them into this…
…mmmmm….tempura…
(I'm sure the farmers at my CSA would be proud.)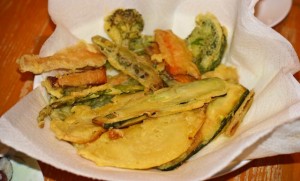 The Feast.
I'm big on presentation.
(insert sarcasm)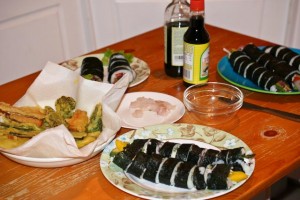 La Piece de Resistance
(Tempura banana rolled in shredded coconut…killer!)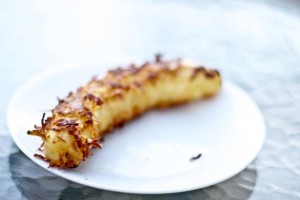 Sushi Roll Recipes
We had a lot of fun experimenting.
The AAA Roll
Ahi
Avocado
Apple
(The apple was surprisingly good.)
Red Onion
(I pretended the red onion wasn't there b/c it ruined the alliteration)
The Baja Roll
Cabbage
Jalepeno
Red Onion
Halibut
Tomato
Cilantro
(Brent's favorite.  Next time we will tempura the roll when we are done.)
Coconut Curry Roll
Tempura Banana
Mayo Mixed with a bit Curry Powder
Red Onion
Shredded Coconut
Cilantro
Ahi
(This was probably my favorite of the bunch.  The curry and wasabi were YUM together.)
Tropical Roll
Mango
Red Onion
Avocado
Halibut
The ALT
Ahi
Lettuce
Tomato
Eel Sauce
(This one had potential had we not burnt the sauce.)
The Red White and Green
Red Onion
Cream Cheese
Asparagus
Ahi
(LOADS of cream cheese.  What more can I say.)
It was a night well spent and I don't regret a. single. bite.
Hugs and High Fives,
Jenn
Keep up with my kettlebell workouts, real food recipes, and more in one of three ways! 1. Sign up to have posts emailed to your inbox. 2. Subscribe to the RSS Feed or 3. "like" Girl Heroes on Facebook. Simple dimple!
Journey with our family on the road at New School Nomads as we live our dream traveling fulltime in RV through the United States!
Pin It