"They" say what?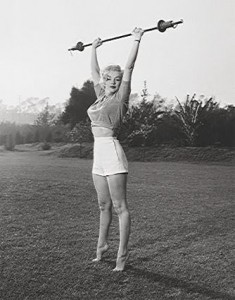 You may have heard of a new study that was circulating various news sources last week.  (Thanks Charlotte for the tip off on Twitter.)   The gist of the study was that women need an hour of moderate intensity activity  7 days a week to maintain a "normal" weight.
So what does this mean for women who really don't have 60 minutes every day of the week to exercise?  Or what about  women like me who don't want to devote 60 minutes every day to exercise but still want to feel good in a bikini be healthy?  Is there another way?
Thankfully the answer is yes.
Metabolic resistance training.
Metabolic resistance training is perfect for those of us who don't have or want to spend 60 minutes 7 days a week working out.  In fact, it would be unsafe to do metabolic circuit training 7 days a week because when I push my body to its limit it needs rest to avoid injury from overtraining. Whew.  Okay great.  But what is metabolic resistance training?  Metabolic resistance training is basically cardio and strength training combined.  Unlike the traditional lift, rest, lift (same exercise as before), and repeat, different strength training exercises of varying intensities are done in circuits of varying lengths with little to no rest in between exercises.
Metabolic resistance training can be done with virtually any device that provides resistance including dumbbells, barbells, kettlebells, bands, and your body.  Although I'm not so sure I like thinking of my body as a "device".   Generally speaking, metabolic circuits are full body workouts typically made up of  compound moves with short rest periods.  It's similar to HIIT cardio but only with resistance.
Not only do you get an awesome workout in a short time but interval training with high intensity burns more calories than moderate intensity training after you workout due to the EPOC (Elevated post oxygen consumption) response.  EPOC basically means that the more intense you workout the longer it takes your body to return to resting levels of energy expenditure.   In other words, the more intense you workout the more calories you burn after your workout.  A slow and steady workout, i.e. moderate intensity, will result in a shorter EPOC response = less calories burned afterwards.  A hard and intense workout will result in a longer EPOC response = more calories burned afterwards.
So if last week's news sounded like bad news to you, check out a headline from last week, Some pain All gain: Another argument for high intensity workouts. Or last month, Interval Training Can Cut Exercise Hours Sharply.
An example of a metabolic resistance type workout
A. Pull Ups (assisted):  10-15
B. Steps Ups: 10-15  each leg
C. Military Press: 10-15
Perform A-C back to back with little to no rest.  Rest 2-3 minutes and repeat for a total of 3x through.
A. Squats: 10- 15
B. Push Ups: 10-15
C. Swings: 15-20
Perform A-C back to back with little to no rest.  Rest 2-3 minutes and repeat for a total of 3x through.
As you grow in strength and endurance you can vary loads, reps, time (complete circuits faster), and rest making the workouts (in my opinion) more fun.  The possibilites to challenge yourself are endless as opposed to steady state moderate intensity cardio where the only way to challenge yourself is to go longer or faster. However, if I keep increasing speed  I will eventually end up in the same anaerobic zone as interval training with high intensity so why not just start there.
Is this only way to train?  Absolutely not?  I say find what you like because plan you will actually do is the BEST plan for you.   Metabolic circuits or interval training is just what I am using right now for this busy time in my life because.. an hour?   No thanks.   I'd rather just get it over with and get on with…life or laundry.  Or not.
Today is the last day to enter my first giveaway for the Oxygen Body Plan Kit.
Hugs and High Fives,
Jenn
If you enjoyed this this post please Subscribe to the RSS Feed.
Sign up for up to have posts emailed to your inbox.
Pin It