Men's Health – You can't have your cake and eat it too.
Last week, I was waiting in line at Office Depot and picked up a June issue of Men's Health to flip through while I waited.  Skimming through the pages I came across these pictures with some quotes from Jessica Szhor , who I had never heard of but now know she is from Gossip Girl which I have never seen.  I am unashamedly behind on pop culture and Office Depot needs to put out current magazines.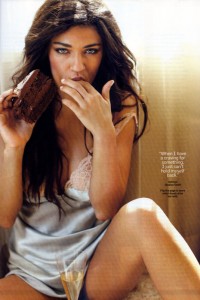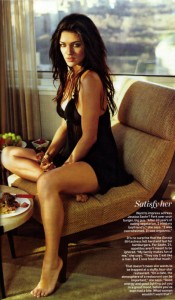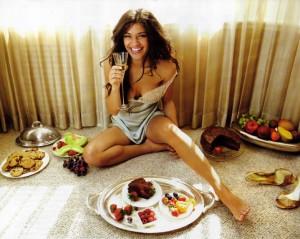 Then there were the brilliant quotes.
"My family makes fun of me. They say I eat like a man. But I love food that much. When I have a craving for something, I just can't hold myself back." – Szohr referring to her super rare genes that she can eat like a pig and still stay that skinny.  Ummmm okay….sure.
"After 10 years of eating vegetarian, I tried my boyfriend's. (his hamburger presumably) I was overwhelmed. It was orgasmic."  Wow! What mind-blowing wit and conviction to vegetarianism.
What to say?  What to say?
Absurd?  Ridiculous?  Annoying?  Funny?  Over-the-top?  Sad?
Personally, I think she is on her way to a Noble peace prize with that sort of depth.  Okay I sound bitter.  I'm not.  Really.  I'm just concerned about her pancreas.  Don't they realize what a piece of chocolate cake that big is going to do to her insulin levels?
Seriously, I've been meaning to write this post for a week now because I want to say something about these pictures and quotes.  Like I said I'm not really into pop culture.  I don't get tv, or a newspaper, and the only magazines we get at our house are Wired, Guidepost, and Oxygen.  Since I clearly live in a bubble this article surprised me.  Seriously, are Men's Health readers that dumb or are Men's Health's publishers that unabashed.  I'm not totally clueless, I realize sex sells but this is a "health" magazine so I was a little confused  to see pictures of a skinny girl stuffing her face with a piece of chocolate cake the size of her head.  I may live in a bubble but I don't live under a rock and I wonder: Are we really living in such a gluttonous culture that people find that sexy?  It's so absurd to me that's it's laughable.
What are the implications for these sort of articles in health magazines?  Will some smuck have the audicity to wish his girlfriend or wife could eat like that stay thin?   Will some teenage girl pick this up and find herself kneeling over the toilet after a binge?
Want to know what bothers me the most.  It's the sheer arrogance of it all.  And I'm not referring to Jessica Szhor because the reality is she probably never said those exact things.  She's young and in Hollywood.  It's likely that she is more the product of her manger, agent, publicist, and rare genetics than she is herself.  There are millions of people in our country fighting their food addictions tooth and nail.   There are millions of people battling obesity.  There are millions of men and women battling eating disorders in order to reach some "ideal".   There are millions upon millions of people dying in the world because they lack the food they need to survive.  Yet a popular men's magazine thinks it "sexy" and "witty" to mock those who struggle with the abundance or lack of food.  Come on Men's Health.  Enough with the fantasies.  You are a HEALTH magazine.  Show some respect to women.  Show some respect for men.  They are not all drooling dogs and many are smart enough to see through your "oh so clever" promotional effort.  Show some respect to those who struggle with their relationship to food.  Show some respect to the food that we are so blessed to have in abundance in this country.  Show some respect to your reader's who are working their azzes off  to attain and/or maintain health.
One of my favorite actors, Ewan McGregor, was on the cover of this particular issue.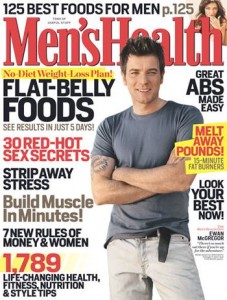 Ironically, his quote on the cover read, "there's so much out there if you're up for the adventure."
So true with a hint at wisdom.  I think I'll go for the adventure instead of the chocolate cake.
xoxo
j
Pin It