Simple Mediterranean Chicken
I don't think eating healthy has to be bland and boring all the time.  Granted it's not cheesy calzones and fettucine alfredro but food doesn't have to taste like chalk. Or maybe I've just trained my taste buds over the years to think sawdust tastes good.  Regardless, here is one of my all time favorite recipes. I've messed with the ingredients for over 2 years to get what I think is a perfect mix of flavors.  I ate this chicken ALL THE TIME when I was prepping for my figure competition and I still love it.  I would cook up 8-16 breast and freeze them in baggies.  Then I'd stick them in the toaster oven when I needed them. It's really simple to make and it's healthy.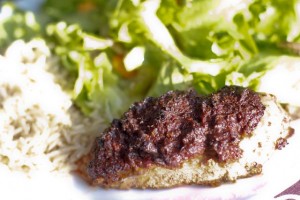 Simple Mediterranean Chicken
2.5 lbs of chicken breast (about 8 5oz. breasts)
½ cup sundried tomatoes in oil
1 cup Kalamata olives (pitted)
¼ cup pine nuts
1-2 tbs of fresh basil leaves
Put tomatoes, olives, pine nuts and basil in a food processor or blender and process until smooth. Rub mixture all over chicken breasts leaving a thick layer on top of each breast. Put chicken in an lightly oiled baking dish. Bake at 400 degrees for 25-30 minutes until chicken is no longer pink.
Makes 8 servings.
Approximately 230 calories, 35 grams of protein, 3 grams of carbs, 7 grams of fat (it's good fat!)
Serve with palm sized portion brown rice and a big old pile of steamed veggies or on second thought who wants to eat "old" veggies?  Nasty. Veggies are already hard enough to get down.  If you prefer, a huge salad with balsamic vinegar also goes well with this chicken. You will probably want to pass on an oil based dressing b/c of the fat from the nuts and olive oil in the chicken.
Hugs and High Fives,
Jenn
If you enjoyed this this post please Subscribe to the RSS Feed.
Sign up for up to have posts emailed to your inbox.
Pin It