Supplements for a Strong Body
Finally I'm back to healthy.  I don't think I've been that sick for years.  It makes me GRATEFUL for my health and even more motivated to continue to nourish and strengthen my body and encourage others to do the same.  I'm itching to get back to the gym too…hopefully tomorrow.  I've lost 4 pounds this week.  I sure hope it's just water and not muscle.  Okay…I really hope it's fat but I know that's it's probably a combination of all three mostly being just water.  Whatever it is The Abbey's are looking like they did pre-show week and that's fun!
In response to a reader's question I like to share with you what supplements I am taking or took during my competition prep.  Choosing a supplement or supplements can be confusing.  Just walk into any supplement store or health food store and you'll have hundreds of choices each claiming to be the secret to a sculpted butt, 6-pack abs, smooth face, or a cancer-free life.  It's easy to walk out of those stores overwhelmed and broke.  I'm not an expert on this subject all I can do is share what worked for me.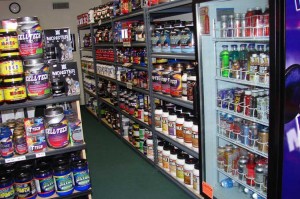 Personally I like to keep it simple.  Right now I'm only taking a whole food multi-vitamin and a whole food B-complex (so I don't end up in jail during a very specific week of the month). Not sure if I'd call these supplements but I also like to drink a shot glass of apple cider vinegar and 1-4 cups of green tea a day.  I do this for the anti-oxidants, caffeine, and I happen to enjoy it (the tea).
When I was preparing for my show I was taking glutamine (when I could remember) post workouts. This assists in muscle recovery. But more often than not I would forget to take it just like I forget to pluck my eyebrows.  I also drank whey protein for convenience to get my protein in when I was on the go.  I like EAS 100% Whey.  Lastly, 5 weeks before my competition, I tried creatine for 3 weeks. Creatine increases the production of ATP.  ATP is the energy your muscles use for short bursts of energy, such as weightlifting. In other words, when you are taking creatine you can lift heavier weights or more reps before your muscles hurt because they have greater energy stores available to them.  As a result you get more muscle growth.  At least that's my understanding.  It did work for me as far as my strength.  I could lift heavier but it wasn't like I doubled my weights.  It was a matter of a few pounds or a rep or two depending on what body part.  Naturally I can lift more with my legs than my shoulders so I saw the biggest increases in the larger muscle groups.  I don't think I used it long enough to see a visible difference.
Honestly, although I'v tried a few supplements, I'm personally not a big fan. For one, they are really expensive and I'm really frugal. And two, I agonize over taking a Tylenol or aspirin. I believe plenty of water (I drink a gallon a day), the right nutrition, an effective workout plan, and a good nights rest are all you really need.  I don't think there is a weight loss supplement out there that will get you results you want if you are not feeding your body the proper nutrition or pushing yourself at the gym.  I know the magazines are full of advertisements for fat burners and the like with these beautiful buff fitness models but remember  these girls work their butts off at the gym and eat squeaky clean for weeks leading up to their photo shoots. "Fat burners" are misleading they don't actually burn fat but stimulate your nervous system therefore increasing your metabolism a little or give you more energy for more cardio.  No thanks.  I'm not a fan of endless hours of cardio.  If energy if what you're after, you can get that from caffeine without the risks. I was going to research the risks but instead I came this post from an clearly well informed and not to mention funny blogger.  She shares her story of taking an ephedra product (weight loss supplement) and ending up in the cardiology unit.  Enough said.
I'd also like to add if you need to take supplements for energy all the time then there is a good chance your training is out of whack. If you are not getting the results you want I think the first step is to be painfully honest about your nutrition and workouts.  I always find being honest with myself is really tough but necessary.  Often times I look at my diet and see that I need major improvement if I want to see the changes I'm aiming for.  Then I have to re-evaluate my reasons and motivations for setting these goals and make sure they are goals I really want.  Here are the basic questions I ask myself.
Are you eating too much?  Little bites here and there may not seems like much but when you are down to the last few pounds they can hold you back.
Are you eating too little?  This is can slow down your metabolism and slow down fat loss.
Are you timing your meals and not skipping meals?  I rarely go more than 3 hours without at meal.  If I do disaster strikes and I will turn my kitchen into the Hometown Buffet of carbs.
Are you REALLY pushing yourself in the gym?  Can you lift heavier?  Can you run faster on your HIIT cardios? Are you tracking your progress? Have your weights been going up?  Is your speed increasing?
Are you getting enough sleep?  If not you can seriously hinder your progress.
Are you overtraining?  Muscles need time to recover after they have been worked really hard.  I usually rest a muscle group I have worked out at least two days before working the muscles again.  Too much cardio can eat away at hard earned muscle.
Are you getting in your post workout nutrition at least 30 minutes after exercising?  This helps with muscle recovery.
This are the questions I start with when I hit plateaus.  And what worked for me for the majority of my 5 month figure preparation.   That said if someone really wants to add supplements to their plan I would recommend glutamine, creatine, and a whole food multi-vitamin.  Some people don't like creatine because it can cause water retention.  I didn't have a problem but then again I only took it for 3 weeks.
Hope you find this helpful!  Since I'm clearly lacking in supplement experience I'd love to hear any of your experiences or recommendations.
xoxo
j
Pin It